Nicki Minaj Expresses Desire To Reconcile With Drake in Song With Sada Baby
Apart from diss tracks and a few petty social media jabs, Nicki Minaj and Drake have been quite tight-lipped about their feud. 
Recently, the Queen of rap hopped on Sada Baby's "Whole Lotta Choppas (Remix)" where she says that she hopes she can have play dates with her son and Drake's son, Adonis.
"To be honest, I hope one day we do a play-date with Adonis," she raps, to which Drake responded "play dates soon come."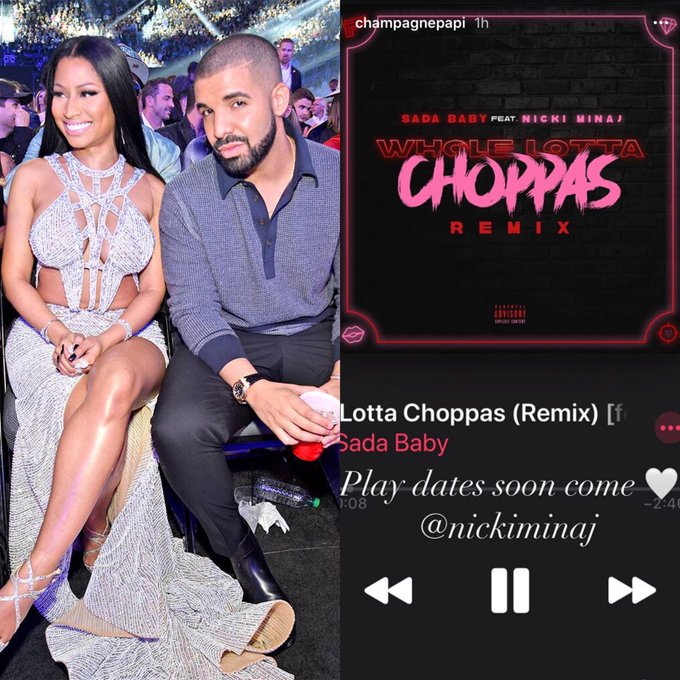 Drake and Nicki used to be extremely close, and they broke out on the music scene around the same time under the rap label Young Money Entertainment. In the recent years, however, things have changed between the pair.
Minaj and Drake have had many fights since they met, but the significant fallouts began back in 2015 after Drake began beefing with Meek Mill who Minaj was dating at the time. Meek Mill publicly claimed that Drake did not write his lyrics, sparking a back-and-forth between them.
This feud left Nicki at an awkward position. While she tried to stay out of the drama, Drake dragged her into it by implying that she was more relevant than Meek Mill.
Drake and Minaj reconnected and seemed to make up. The reunion was, however, short-lived. Drake made up with Meek Mill who had developed a bad relationship with Minaj after their 2-year-relationship split.
In December 2018, fans noticed that Minaj and Drake were not following each other on Instagram. February 2019, Nicki dropped a freestyle titled 'Barbie Going Bad' where she seemed to shade both Drake and her ex, Meek.
We are happy to see that the two desire to reconcile and mend their relationship. Hopefully, their repaired relationship translates to more hits for their fans!
Lil Baby Shares Wealth Chart That Draws a Graph Starting From Poor to Super Rich
Lil Baby rose to fame in 2017 after his mixtape Perfect Timing became a hit. The 26-year-old has received tons of awards ever since and is still getting nominations for more.
Just like his fellow rappers, the Errybody rapper shows off his expensive Jewellery and cool drip.
The rapper, who has a net worth of five million dollars, decided to share a chart that distinguishes the wealthy and the low classes.
The chart has sparked an online debate that might not end soon. If the graph got made by a famous person who gets a million-dollar worth of gifts on his birthday, we have to listen.
The poorest people range between an income of zero dollars to five hundred thousand dollars in the graph. The next level is the middle class that ranges from $500,000 to 2 million dollars.
After the middle class, we have the upper-middle category. Now, this class ranges between two million to four million US dollars.
According to the The Bigger Picture rapper, those who earn between ten million and thirty million dollars fall under the wealthy class.
There is a 'poor' rich people category ($30M-$80M), then the comfortably wealthy class ($80M-$150M), followed by the rich (150-200), seriously rich ($200M-$400M), Truly Rich ($400-$800), Filthy Rich ($800M- $2Billion), before we land to the most fortunate group the Super Rich($ 2Billion and above).
Where do you fall? Let us know below.