Nicki Minaj Expresses Desire To Reconcile With Drake in Song With Sada Baby
Apart from diss tracks and a few petty social media jabs, Nicki Minaj and Drake have been quite tight-lipped about their feud. 
Recently, the Queen of rap hopped on Sada Baby's "Whole Lotta Choppas (Remix)" where she says that she hopes she can have play dates with her son and Drake's son, Adonis.
"To be honest, I hope one day we do a play-date with Adonis," she raps, to which Drake responded "play dates soon come."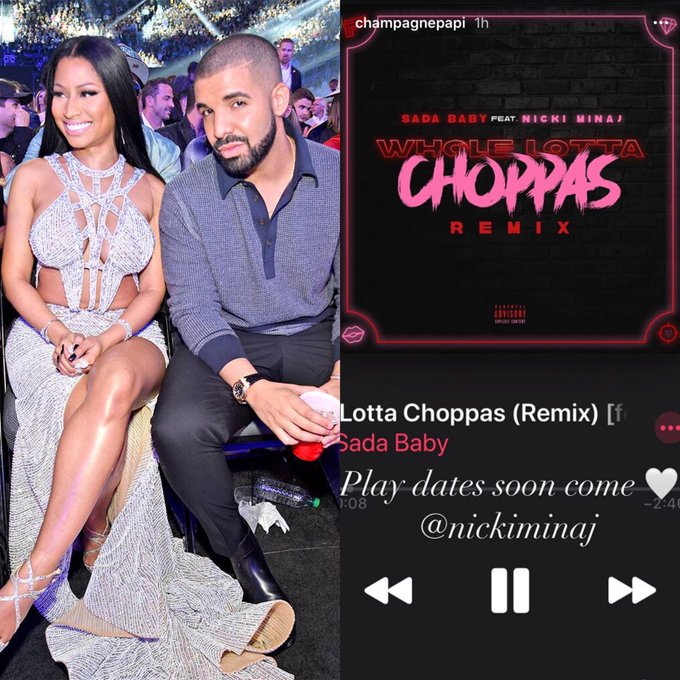 Drake and Nicki used to be extremely close, and they broke out on the music scene around the same time under the rap label Young Money Entertainment. In the recent years, however, things have changed between the pair.
Minaj and Drake have had many fights since they met, but the significant fallouts began back in 2015 after Drake began beefing with Meek Mill who Minaj was dating at the time. Meek Mill publicly claimed that Drake did not write his lyrics, sparking a back-and-forth between them.
This feud left Nicki at an awkward position. While she tried to stay out of the drama, Drake dragged her into it by implying that she was more relevant than Meek Mill.
Drake and Minaj reconnected and seemed to make up. The reunion was, however, short-lived. Drake made up with Meek Mill who had developed a bad relationship with Minaj after their 2-year-relationship split.
In December 2018, fans noticed that Minaj and Drake were not following each other on Instagram. February 2019, Nicki dropped a freestyle titled 'Barbie Going Bad' where she seemed to shade both Drake and her ex, Meek.
We are happy to see that the two desire to reconcile and mend their relationship. Hopefully, their repaired relationship translates to more hits for their fans!
Remembering XXXtentacion 2 Years On: How Hip-Hop Stars Reacted to his Death
With the case still going on, Xxxtentacion's death left many people troubled. His fans, his family and even celebrities, some of whom he looked up to.
Here are a few sentiments shared by stars on the 20-year-old rapper's untimely death.
Despite 50 Cent not knowing Xxxtentacion personally, he had a lot to say about his music considering he is a rapper who keeps up with modern hip-hop trends.
Highlighting that Xxxtentacion was still too young, Fif said he had so much potential in him. Triple was termed this generation's Tupac by fans while he was still alive and according to 50 Cent, Spotify is disrespecting him.
Fif says the company is earning from his music long after his death but when he was still alive, they claimed his music violated their policy on hateful conduct.
Still on Spotify's 'Hate content and conduct' policy, the Humble hit maker called out Spotify for the inconsiderate act. He was a lover of the rapper's music and at one point he even termed his 17 album's lyrics "RAW".
After his death, Big Sean took to Twitter explaining how shook he was about the young rapper's death.
Just like Fif, he didn't know him personally but he stated that X put so much passion into his music and the messages he was trying to pass across.
The tweet ended with the rapper saying Triple X did not deserve that kind of death.
4. J Cole
In an interview, Cole openly stated that he met the late rapper virtually on FaceTime .He added that in their more-than-two-hour talk, he understood that X was mentally disturbed and that he was eager to be a better person.
Cole also said Xxx left a mark on him after the call and that despite his personal ups and downs, Xxxtentacion could have offered the world more of his great work because of the zeal that he had inside him.
5. NLE Choppa
Terming his music 'beautiful', Choppa says that he listened to Triple X's music to help him cope with his mental issues. He said that it had an impact on his mood.
In a farewell message, Ye thanked Triple X for existing and added that he was a source of inspiration for him, just that he never got a chance to open up to him.
Fans bashed him however, for hesitating to sign X when he was alive. They claimed he was doing the most to honor him including designing a shit with the late rapper as the theme.
According to Uzi, XXX was his only competitor in the music industry. He said this shortly after attending Triple X's memorial service where he played Look at Me as his way of paying his last respects.
In a tweet that has since been deleted, Lil Uzi shared his intention to start a foundation in honor of the deceased rapper. He wrote that it would be dedicated to upcoming artists who die from drug and gun violence.
8. PNB Rock
One can argue that PNB Rock was the most affected by his death as he the late rapper had a very close relationship. After their Changes collaboration went platinum, Rock had a lot to say about his 'brother'.
He started off by acknowledging their success after which he added that the feeling of happiness is not the same as he was not there to share the joy.
Rock stated that Xxx had a musical spirit that can't be matched. He finished his caption saying that he will miss the rapper for a lot of things.
9.Rob Stone
Rob And Xxx had beefs that led to them even making diss tracks for each other. The two of them however cleared it out when the slain rapper approached him for a talk.
In his eulogy message, Rob Stone said he "would never wish death on another human being" and he acknowledged the rapper's humility to reach out and straighten things out.
He also claimed that he did this for their supporters to get closure on the matter asking them to learn from it and be the change required to end the violence.
Young Thug acknowledged the upcoming star's talent and asked fans to tag him because he wanted to work with him because he was a dope writer. X only responded with an eye emoji.
11. Jermaine Dupri
Jermaine is great at sporting talent and he sure noticed Triple X's great artwork. The So-So Def founder says he talked to usher about his music and that he was saddened by his untimely death as he thought the rapper would make it big in the industry.
Those are just but a few thoughts on the legendary rapper. What did you think about Xxxtentacion? Let us know.